LETTERS FROM NEVADA'S DAUGHTERS
By Birth or By Choice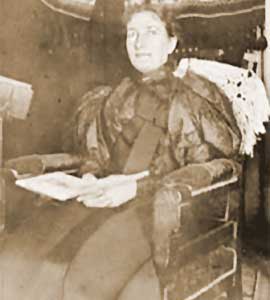 Letters from Nevada's Daughters is an exciting project for Nevada women to preserve and share their family and life histories. The project was inspired by former Congresswoman Barbara Vucanovich's plan to write her memoirs in the form of letters to grandchildren and great-grandchildren. The book is entitled Letters from the House: Reflections of a Tough Grandmother.
The Letters from Nevada's Daughters Project is sponsored by the Nevada Women's History Project (NWHP). Now is the time to compile the facts about Nevada women in the Twentieth Century and their thoughts about their lives and times.
NWHP will post on their web page the topic of the letter with some general questions to be answered. You are not limited to the one page of each form and may attach as many additional pages as you need. There is no word limit. You decide what information you wish to preserve. All answers and information are optional. After collecting basic information on each letter writer, the tentative topics of discussion are: family genealogy, residences, life work/career/s, daily life activities, foods, religion, fashions, significant medical history, recreation and travel, important issues or causes, impact of technology, "Famous" people known, music and arts, retirement, holiday celebrations and customs, and your treatment by others because you were a woman. Any women who has lived in Nevada is a "Nevada Daughter"; some are here by choice, some are here by chance of birth.
---
Letters from Barbara Vucanovich
---
Letter from Karen Y. Foissotte – November 1999
---
Letters from Patricia D. Cafferata
---
Letter from Kathryn Etcheverria – December 1999
---