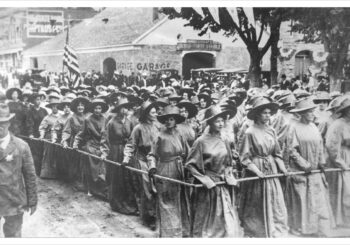 1915 Fourth of July Parade "Living Flag"
In 1915, 182 women marched in the formation of a United States Flag to celebrate the passage of women's right to vote in Nevada and to support passing the national 19th Amendment in 1920, giving all women in our nation the right to vote. On October 31, 2020, the Nevada Women's History Project will re-enact the 1915 Fourth of July parade entry pictured above in Carson City, Nev.
Please join us to make this happen. We need 150+ women to say "yes" to be a part of this history-making parade entry!
You must be able to walk two miles on the level paved surface of Carson Street. The garments you will wear will be provided at the parade. There will be a modest fee to cover the cost of the garments.
Additional information may be requested by emailing Patti Bernard at awtuv@aol.com or leaving a message at the NWHP office, 775-786-2335.
Sign up below and get your friends to sign up for an amazing and meaningful experience!
---
---