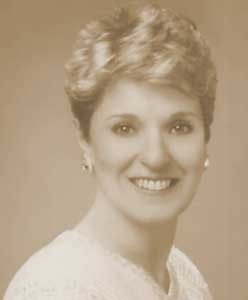 BONNIE (FAIRCHILD) BRYAN (1939 – 2016)
Governor Richard Bryan (1983 – 1989)
The information below has been compiled from a variety of sources. If the reader has access to information that can be documented and that will correct or add to this woman's biographical information, please contact the Nevada Women's History Project.
At A Glance:
Born: 24 June 1939 (Lodi CA)
Died: 30 August 2016
Maiden Name: Bonnie Belinda Fairchild
Race/Nationality/Ethnic Background: Caucasian
Married: 1 Sept 1962 (Lodi CA)
Children: Leslie, Blair, Richard Jr.
Primary City and County of Residence and Work:
Las Vegas NV, Carson City NV
Major Fields of Work: First Lady, Community Activist
Other Role Identities: Wife, Mother, civic activist
Bibliography:
"Dynamic role of 'chief volunteer'." Nevada Appeal [Carson City] 2 May 1982, sec. Apple Tree: 3. Print.
"Candidates' wives have same goal." Las Vegas Sun 4 Oct, 1982:41. Print.
"Gold Dust Twins' Outshined by Spouses." Nevada Appeal [Carson City] 9 April 1993, sec. A: 3. Print.
"Governor's Kids roll call." Reno Gazette Journal 2 Nov. 1997, sec. B: 2. Print.
Foyt, Elizabeth. "Elegant tea party honors Nevada's first ladies." lasvegassun.com. Las Vegas Sun, 27 Oct 1999. Web. 22 July 2010.
"Bonnie Fairchild, Bryan's mother-in-law dies at 94." las Vegassun.com. Las Vegas Sun, 11 May 2000. Web. 22 July 2010.
"The R-J Goes to a Party: Junior League honors Bonnie Bryan during centennial event." Las Vegas Review Journal 7 April 2005, sec. E: 3. Print.
"Inaugural Ad-Dress." Luxury Las Vegas Magazine Feb. 2009:55. Print.
Harpster, Jack. "The Dreamer: Richard Bryan." 100 Years in the Nevada Governor's Mansion. Las Vegas, NV: Stephens Press, LLC, 2009. 186-197. Print.
Nylen, Robert A., and Guy Louis Rocha. "Bonnie (Fairchild) Bryan." State of Nevada: The Historical Governor's Mansion. Carson City, Nevada: "Bonnie (Fairchild) Bryan, the Nevada Commission on Tourism, Nevada Magazine and the Nevada Department of Cultural Affairs, 2005. 46. Print.
Myers, Laura. "First ladies share lives, laughs." Las Vegas Review Journal 12 January 2014. sec B:1, B:10. Print.