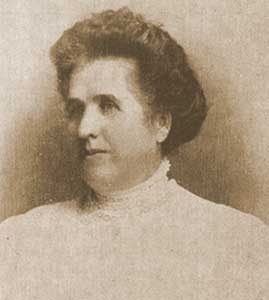 ELIZABETH (WEYBURN) JONES-SIFFORD (1861 – 1925)
Governor John E. Jones (1895 – 1896) died in office 4/10/1896

The information below has been compiled from a variety of sources. If the reader has access to information that can be documented and that will correct or add to this woman's biographical information, please contact the Nevada Women's History Project.
At A Glance:
Born: Feb 1861 (Wales, England)
Died: 4 Feb 1925 (Lassen CA)
Burial: Carson City NV
Maiden Name: Elizabeth Wayburn
Race/Nationality/Ethnic Background: Caucasian
Married: 25 Nov 1880 – John E. Jones, 10 Sept. 1902 – William Sifford
Children: Edith, Arvin
Primary City and County of Residence and Work:
Stillwater, NV, Lassen, CA
Major Fields of Work: First Lady
Other Role Identities: Wife, Mother
WIDOW OF GOVERNOR JONES OF NEVADA DIES IN LASSEN CO.
(Special to the Tribune)
CARSON CITY, NV, February 5
Mrs. E. Stafford, widow of the late Governor John Jones, of Nevada, passed away last night at her home in Lassen County, California. The information was carried to Carson friends in telegrams from Lassen.
She is survived by one son, Devine Jones*, who was formerly connected with the State Engineer's office at Carson City.
The administration of Governor Jones took place in Nevada prior to the administration of Governor Sparks, about 1896.
*[incorrect name identification ]
Sparks Tribune 4 Feb. 1923:1
Bibliography:
"John E. Jones." The National Cyclopedia of American Biography, vol. XI, New York, New York: James T. White & Company, 1902. 201. Print.
"Mrs. John E. Jones widow of late Gov. John E. Jones was married". Lyon County Times [Yerington] 27 Sept. 1902:4. Print.
"Widow of Governor Jones of Nevada Dies In Lassen County." Sparks Tribune. 4 Feb. 1923:1. Print.
"Widow Of Late Nevada Governor Dies." Lassen Mail. [Milford] 13 Feb. 1925:1. Print.
Myles, Myrtle T.. "Nevada's Governors, Part III." Las Vegas Review Journal 3 May 1964, sec.The Nevadan:26. Print.
Myles, Myrtle Tate. "Elizabeth (Weyburn) Jones-Sifford". Nevada's Governors: From Territorial Days to the Present, 1861-1971. Sparks, NV: Western Printing & Publishing Company, 1972, 56-58. Print.
Sawyer, Bette, "Nevada's 100 Years of First Ladies." Nevada Centennial Magazine. 1964: p. 126: Print.
Nylen, Robert A., and Guy Louis Rocha. "Elizabeth (Weyburn) Jones-Sifford." State of Nevada: The Historical Governor's Mansion. Carson City, Nevada: Dema Guinn, the Nevada Commission on Tourism, Nevada Magazine, and the Nevada Department of Cultural Affairs. 2005. 29. Print.