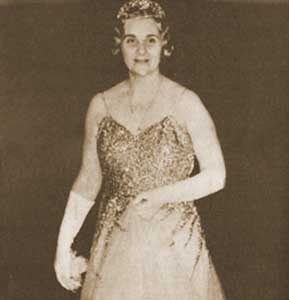 IRMA MARIE (CALLAHAN) CARVILLE (ab.1890 – 1973)
Governor Edward P. Carville (1939 – 1945) resigned to become U.S. Senator (7/24/1945)
The information below has been compiled from a variety of sources. If the reader has access to information that can be documented and that will correct or add to this woman's biographical information, please contact the Nevada Women's History Project.
At A Glance:
Born: December, 1890 (South Bend IN)
Died: January 8, 1973 (San Rafael CA)
Burial: Reno NV
Maiden Name: Irma Marie Callahan
Race/Nationality/Ethnic Background: Caucasian
Married: 29 Aug 1910 (Elko NV)
Children: Edward, Richard, Robert
Primary City and County of Residence and Work:
Carson City NV, Reno NV.
Major Fields of Work: First Lady
Other Role Identities: Wife, Mother
Obituary: Reno Evening Gazette (Reno, Nevada) 8 January 1973 p. 11:1
Ex-Nevada governor's widow dies
Mrs. Irma M. Carville, widow of former Nevada Governor and U. S. Senator E.P. Carville, died this morning in a rest home in Tiburon, Calif., according to word received by member of the family.
Mrs. Carville maintained her residence in Reno but had lived on the coast for several years since Senator Carville died June 27, 1956.
She was born Irma M. Callahan Dec. 14, 1890, in South Bend, Ind., where she met Carville while he was a student at Notre Dame University. Following his graduation and their marriage, Aug. 29, 1910, she accompanied him to Elko where he established a law practice, later serving as district attorney and district judge.
The couple moved to Reno when Carville was appointed U.S. Attorney for Nevada in 1934. They resided in the Governor's Mansion in Carson City while Carville served as Governor from 1939 to 1945. In that year Carville resigned to fill the vacancy in the U.S. Senate created by the death of Sen. James G. Scrugham, and they lived in Washington, D.C. during Carville's Senate serve in 1945-46. On returning from the nation's capital, the family home was again maintained in Reno.
Mrs. Carville was a devout Catholic and was a leader in various organizations including Our Lady of the Snows Altar Society, the Diocesan Council of Catholic Women and the St. Agnes Club.
Her three sons, Robert T., Edward D., and Richard Carville all preceded her in death. Surviving are grandchildren Nancy Busey of Reno, Louise Beckwith of San Bruno, Calif.; Suzanne, Edward, Thomas and James Powers of Ventura, Calif.; Richard Carville of Texas, and Mary Lynne Knacke and Irma Ann Clark of the San Francisco Bay Area; a sister, Marcia Noh of Long Beach, Calif.; and a niece Donna Lanning of San Rafael.
Funeral arrangements are pending at the Walton Mortuary.
Bibliography:
"Mrs. Carville Is Honored." Reno Gazette Journal [Reno] 30 Oct. 1940:10. Print.
"Honored at Convention." Nevada State Journal [Reno]3 Nov. 1940:10. Print.
"Mrs. E.P. Carville Honored By Catholics." Reno Evening Gazette [Reno] 23 April 1942:10. Print.
Sawyer, Bette. "Nevada's 100 Years of First Ladies." Nevada Centennial Magazine, 1964: p. 108. Print.
Myles, Myrtle T. "Depression, World War II Governors: Nevada Governors, Part VI." Las Vegas Review Journal, 7 June 1964, sec. The Nevadan: 25, Print.
Myles, Myrtle Tate. "Edward Peter Carville." Nevada's Governors: From Territorial Days to the Present, 1861-1971. Sparks, NV: Western Printing & Publishing Company, 1972. 108-109. Print.
"Irma M. Carville." Nevada State Journal. 10 Jan. 1973:34. Print.
Governors' Kids roll call." Reno Gazette Journal [Reno] 2 Nov. 1997, sec. B: 2. Print.
Nylen, Robert A., and Guy Louis Rocha. "Irma Marie (Callahan) Carville." State of Nevada: The Historical Governor's Mansion. Carson City, Nevada: Dema Guinn, the Nevada Commission on Tourism, Nevada Magazine and the Nevada Department of Cultural Affairs, 2005.39. Print.
Harpster, Jack. "The Presidential Scapegoat: Governor Ted Carville." 100 Years in the Nevada Governor's Mansion. Las Vegas, NV: Stephens Press, LLC, 2009. 102-111. Print.