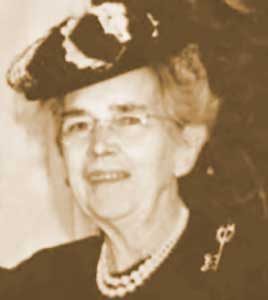 JULIA (McCANN) SCRUGHAM ( 1879- 1954)
Governor James G. Scrugham (1923 – 1927)

The information below has been compiled from a variety of sources. If the reader has access to information that can be documented and that will correct or add to this woman's biographical information, please contact the Nevada Women's History Project.
At A Glance:
Born: Sept. 1879 (Fayette, KY)
Died: 14 Mar 1954 (Reno, NV)
Burial: Reno, NV
Maiden Name: Julia McCann
Race/Nationality/Ethnic Background: Caucasian
Married: 2 Aug 1904 (Fayette, KY)
Children: Kievit (adopted son), George T., James G., Martha
Primary City and County of Residence and Work:
Carson City, NV, Washington D.C., Reno, NV
Major Fields of Work: First Lady
Other Role Identities: Wife, Mother
Obituary: Reno Evening Gazette 16 March 1954       p. 8:2
JULIA SCRUGHAM DIES SUDDENLY, FUNERAL TODAY
U.S. Senator's Widow Widely Known in State
Graveside services will be held today at 3 p.m. for Mrs. Julia Scrugham, widow of the late Sen. James G. Scrugham, who died suddenly at a local hospital Sunday.
Mrs. Scrugham entered the hospital Saturday and had not been ill. Her death, from a heart attack, was unexpected.
Born Julia McCann, at Lexington, Ky., Mrs. Scrugham married there in 1904 and accompanied her husband to Nevada that year when he became professor of mechanical engineering at the University of Nevada.  Sen. Scrugham's career here included terms as governor, representative in Congress and U.S. Senator.  He died in 1945 while serving in the Senate, having been governor from 1923 to 1927 and congressman from 1932 to 1942.  From 1927 to 1932, Sen. Scrugham was publisher of the Nevada State Journal.
ACTIVE IN POLITICS
During her husband's prominent career, Mrs. Scrugham herself took a direct interest in politics. She maintained this interest after his death, and at the time of her own death was serving on the executive committee of the Washoe County Democratic Central Committee. She had been active in recent years in the Reno Democratic Organization.
Mrs. Scrugham was a long-time member of the Monday Club, and also belonged to Delta Delta Alliance and the Episcopal Church.
Surviving are her son, James G. Scrugham of Reno; a daughter, Mrs. Joseph Kievitt, and two grandchildren of Los Angeles.
Services today will take place in the Masonic section of Mountain View Cemetery, with the Rev. John T. Ledger officiating. O'Brien Rogers is in charge of arrangements.
Bibliography:
"Gov. Scrugham Takes Control Of the Journal." Nevada State Journal [Reno] 1 Dec. 1926:1. Print.
"Scrugham and the Journal." Nevada State Journal [Reno] 9 Dec. 1926:4. Print.
"Democratic Volunteers Would Build Strength." Reno Evening Gazette 19 Nov. 1953:19. Print.
"Julia Scrugham Widow of Former Governor Passes." Reno Evening Gazette 15 Mar. 1954:1l. Print.
Myles, Myrtle Tate. "James Graves Scrugham." Nevada's Governors: From Territorial Days to the Present 1861-1971. Sparks, NV: Western Printing & Publishing Company. 1972. 90, 92. Print.
Sawyer, Bette. "Nevada's 100 Years of First Ladies." Nevada Centennial Magazine. 1964:p. 128. Print.
Governors' Kids roll call." Reno Gazette Journal 2 Nov. 1997, sec. B: 2. Print.
Nylen, Robert A., and Guy Louis Rocha. "Julia (McCann) Scrugham." State of Nevada: The historical Governor's Mansion. Carson City, Nevada: Dema Guinn, the Nevada Commission on Tourism, Nevada Magazine, and the Nevada Department of Cultural Affairs, 2005. 35. Print.
Harpster, Jack. "The Roaring 20s: Governor James Scrugham." 100 Years in the Nevada Governor's Mansion. Las Vegas, NV: Stephens Press, LLC, 2009. 64-70. Print.